EURUSD recovers as ECB turns hawkish
The euro leaps to a four-week high against the US dollar as the ECB sends hawkish policy signals. ECB boss Christine Lagarde said interest rates could be back in positive territory by the end of summer. Traders expect a rate hike in July for the first time in a decade. This might be the turning point that euro bulls have been longing for. As the Fed's policy normalisation has become a certainty, market participants look to price in the euro's catching up in the global tightening cycle. A 50 basis point increase or a more aggressive tilt could narrow the differential. The pair has bounced off January 2017's lows at 1.0350. 1.0900 is the first hurdle.
USDCAD consolidates ahead of BoC decision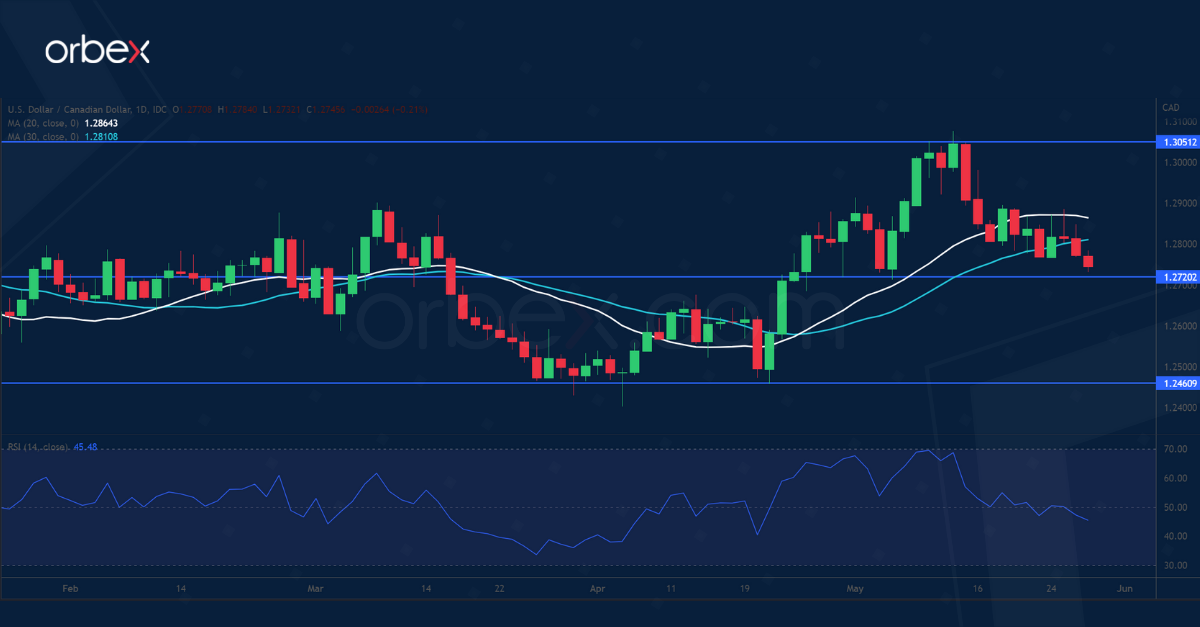 The Canadian dollar steadies as the Bank of Canada is expected to raise interest rates by half a percentage point at its policy announcement this week. Bets that more 50bps hikes are on their way into the summer could further support the currency. As the BoC seems to be moving in tandem with the US Fed in a firm and decisive manner, the loonie may hold well against its US counterpart. Meanwhile, the recent recovery in oil prices buoyed by tight supplies would also benefit the commodity-linked loonie. 1.2720 at the base of a previous breakout is a key support. A rebound would send the pair above 1.3050.
XAUUSD bounces as dollar softens
Gold grinds higher as the US Fed could temper its approach after this summer. The latest FOMC minutes confirmed its agenda with 50 basis point hikes in June and July. However, the central bank would monitor its economic impact and may not get more aggressive to avoid overshooting its target rate. Traders are on the lookout for signs of a peak in inflation as a slowdown could prompt policymakers to lift their feet off the pedal. The market would offload the greenback should this happen, which in turn would alleviate pressure on the precious metal. 1910 remains a major hurdle ahead and 1790 a critical level to keep bullion afloat.
SPX 500 recovers over hint of Fed hike pause
The S&P 500 recoups losses as interest rate hikes may not go overboard. Hints that the Fed may pause its aggressive rate hikes in autumn help stabilise general sentiment. Softer GDP growth in Q1 could be a step toward a wait-and-see stance from policymakers. Additionally, strong earnings and upbeat guidance from major retailers eased concerns that high prices might have sapped consumer confidence. Nevertheless, as investors still grapple with the risk of recession, most would be wary of committing too early in a potential dead cat bounce. Selling interest could be expected around 4300 and 3880 is a fresh support.
Test your strategy on how gold will fare with Orbex – Open your account now.