Sky cancels planned Tory leadership debate after Sunak and Truss say they won't participate
Sky News has just announced it has cancelled the Tory leadership debate planned for tomorrow night after Rishi Sunak and Liz Truss said they would not take part. This is from Sky's Tamara Cohen.
Key events:
Ladbrokes, the betting company, says there has been a significant increase in the number of people putting money on Liz Truss to win the Tory leadership contest since yesterday. It says it had Penny Mordaunt as favourite to win the contest on Saturday morning, but that Rishi Sunak is now favourite (on evens), followed by Truss (on odds of 2/1).
There will be an urgent question in the Commons on heatwave, tabled by the Green MP Caroline Lucas, and a statement from Stephen Barclay, the new health secretary, on pressures on the ambulance service.
That means Boris Johnson will not open the confidence debate until around 5.15pm.
No 10 defends Johnson's decision not to chair Cobra meetings on heatwave
The government's emergency committee, Cobra, has been meeting to discuss how to handle the heatwave, but Boris Johnson has not been chairing those meetings himself. At the Downing Street lobby briefing the PM's spokesperson defended his decision to leave it to a junior colleague. Here is a summary of what No 10, on this story and on other matters.
Downing Street defended Johnson's decision to let Kit Malthouse, the chancellor of the duchy of Lancaster, chair the Cobra meetings on the heatwave. The PM's spokesperson said:
Kit Malthouse has made the point that he is taking the lead on the government's response to the heatwave, he's keeping the prime minister fully briefed including over the weekend when the prime minister also spoke to a number of secretaries of state about the work they are doing. And it is not unusual in cabinet government for cabinet ministers to chair these sorts of things.
Malthouse is due to chair another Cobra meeting on this at 2.30pm. The spokesperson would not say what Johnson would be doing while that meeting was taking place.
The spokesperson defended Johnson's decision to take a flight in an RAF Typhoon jet at the weekend. Asked why this was necessary, the spokesperson said:
The Typhoon's quick alert reaction role is an integral part of both UK and Nato security and the PM does have a specific role in directing RAF action in worst-case scenarios. So it is important he is aware of some of these capabilities they have.
Asked if Johnson needed first-hand experience to understand this, the spokesperson said: "It's important that he has a detailed understanding of the working capabilities of the RAF."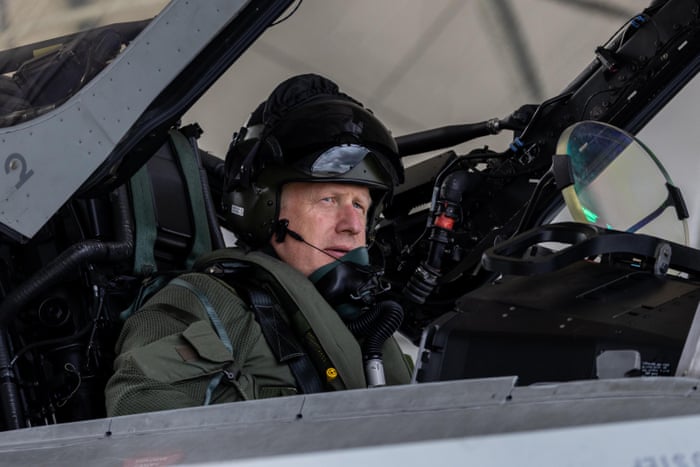 Downing Street has defended the government's economic strategy after Liz Truss, the foreign secretary, suggested it might lead to a recession. In last night's debate Truss criticised Rishi Sunak, the former chancellor, for raising taxes too much and said his policy was "cutting back on growth". She went on:
It is preventing companies from investing and it's taking money out of people's pockets. That is no way to get the economy going during a recession.
Asked to respond, the PM's spokesperson said:
The government's position has been well established and talked about.

We believe we need to strike the right balance between servicing significant debt, which is running at £83bn, and also taking action to mitigate these global cost-of-living pressures, that's what we're doing and that's where the Treasury's focus is.
The spokesperson said a "range of measures" were in place to cope with the impact of the heat. There is much more coverage of this on our separate heatwave blog.
Keir Starmer also told reporters this morning that it would be "farcical" for Tory MPs to pass a confidence motion in Boris Johnson this evening (see 12pm) when all five of the leadership candidates in last night's TV debate ruled out offering Johnson a job in cabinet. Starmer said:
The prime minister has put down this vote of confidence in himself and his government.

We've got this extraordinary situation. In the debate last night, I think all of the candidates to be prime minister [were asked] 'would you have the current prime minister in your cabinet?' And none of them said they would.

Tonight he's asking them to go into voting lobbies to vote confidence in him continuing as prime minister so this is getting farcical.
Starmer says pulling out of TV debate when you want to be PM 'doesn't show much confidence'
Keir Starmer has said that he is "astonished" that Tory leadership candidates are avoiding the scrutiny of a TV debate. He said:
I'm astonished that those that want to be prime minister of the United Kingdom are pulling out of debates and out of scrutiny. I can see based on what I've seen in the debates so far why they want to do so because this is a party that is out of ideas, out of purpose, they're tearing each other apart …

Pulling out of a TV debate when you want to be prime minister doesn't show very much confidence.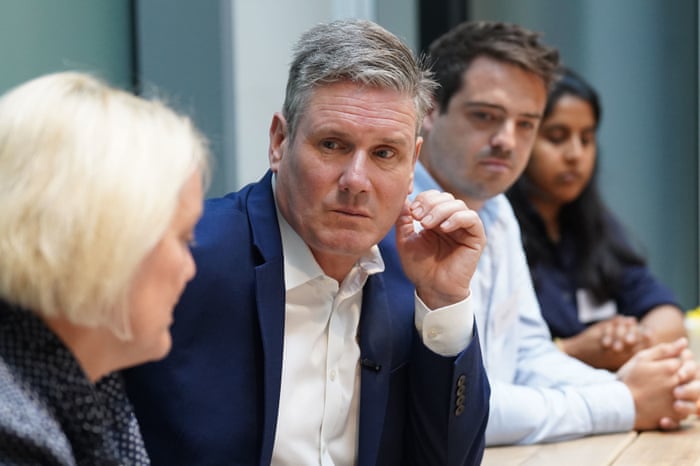 The Penny Mordaunt campaign has said a statement on the cancellation of the Sky News debate released earlier, which blamed Rishi Sunak and Liz Truss for not being able to debate each other "in a civil way" (see 11.13am), was sent out in error. It has retracted that statement, and instead issued this comment which does not not criticise her rivals. A campaign spokesperson said:
Media scrutiny is important in this contest. Penny has done broadcast and allowed time for journalists to ask questions at her launch. MPs aren't just picking a new leader, but picking the nation's new PM. Penny hopes there will be ample opportunity for such scrutiny later in the contest in a format that allows detailed questions and insights.
Here is a question from below the line.

The motion for the debate this afternoon, which has been tabled by the government, says: "That this house has confidence in Her Majesty's government."
Labour could choose to table an amendment to the motion, but it has decided not to. A party source says that is because the party does not have confidence in the government and will be voting against. "Rather than getting lost in procedural points, we're focused on how this government has failed the country and will vote against the confidence motion," the source said.
Originally Labour wanted a no confidence debate on a motion that linked having no confidence in the government to Boris Johnson being PM. Its proposed wording was: "That this house has no confidence in Her Majesty's government while the Rt Hon Member for Uxbridge and South Ruislip [Boris Johnson] remains prime minister." But the government said it would not schedule a debate on this motion, even though no confidence motions tabled by the official opposition are always meant to get priority, on the grounds that the wording was unconventional and that Johnson's decision to resign made that aspect of the motion irrelevant.
The Liberal Democrats have tabled an amendment to the motion being debated today which says the Commons "has no confidence in Her Majesty's government and in the prime minister, and demands that the prime minister resign from office immediately." But that is unlikely to be selected by the Speaker to be put to a vote.
Conservative MPs have been expressing their alarm in private WhatsApp groups about the damage the TV leadership debates have been doing to the party's reputation, ITV's Anushka Asthana reports. In her story she says:
In messages seen by ITV News, one MP warned: "The division, smears and personal attacks this weekend have been disgraceful. Nothing will kill our party more than blue on blue."

Another wrote: "We have an 80-seat majority and have spent time in-fighting and bringing down the party and are now fighting publicly. It's shameful. I can't believe this is happening."

One MP told ITV news that it was more "sorry than anger" in terms of the mood, but admitted: "It's hard to see how people partner up when they go so hard at each other."
Ed Davey, the Lib Dem leader, says the refusal of Rishi Sunak and Liz Truss to attend a TV leadership contest debate tomorrow shows they are treating the public with contempt. In a statement he says:
The Conservatives say they want to lead but they won't even turn up to debate the issues that matter to our country.

Each of them are treating the nation with utter contempt and they've been taking people for granted for long enough.

Conservative candidates' attempt to duck scrutiny just makes a general election at the end of this campaign even more necessary.
Penny Mordaunt's campaign has criticised the decision by Rishi Sunak and Liz Truss not to take part in the Sky TV debate that had been planned for tomorrow, my colleague Jessica Elgot reports. Mordaunt has blamed Sunak and Truss for not being able to debate each other "in a civil way".
UPDATE: The Mordaunt campaign subsequently retracted this statement. See 12.06pm.
Rishi Sunak would be happy to take part in further TV debates if (as expected) he makes it onto the final shortlist of two for the members' ballot, a campaign source has said. And the Liz Truss campaign says she is focused on the MPs' hustings but will take part in any debate that all other candidates have signed up to.
Sky cancels planned Tory leadership debate after Sunak and Truss say they won't participate
Sky News has just announced it has cancelled the Tory leadership debate planned for tomorrow night after Rishi Sunak and Liz Truss said they would not take part. This is from Sky's Tamara Cohen.
On Wednesday next week Guardian Live is hosting a discussion on who will be the next Conservative leader. The panel includes my colleagues Jonathan Freedland and John Crace, and Salma Shah, a former special adviser to Sajid Javid. Full details of the event, and how to get tickets, are available here.
Tory leadership candidates urged to boycott next TV debate amid concern damage first two have done to party's image
According to Steven Swinford from the Times, Rishi Sunak and Liz Truss are both thinking of pulling out of the Sky debate scheduled for tomorrow night partly because they are concerned about the impact the debates are having on the party's reputation.
The influential ConservativeHome website is urging all the candidates to boycott tomorrow's debate. In an article on the website posted this morning Paul Goodman, its editor, says the ITV one last night was a particular horror show for the party. He says:
Why on earth did the Conservative candidates in this contest sign up to be the victims of this political version of The Hunger Games? (It isn't even clear if there's a Katniss Everdeen to hand.) I'm afraid the answer is a) none of the candidates dared stand up to the broadcasters, even if they wanted to, and b) the institutional party hasn't the clout to put the stop to it.

Did it not occur to any of the candidates and their teams, when they saw the ITV format, that it was the equivalent of the Hunger Games' cornucopia gambit – in which the contestants bludgeon, knife, shoot and strangle each other to death in order to get at vital supplies? Having the nastiest punchline might floor your opponent? But will it help you form a stable government if you win?

Tory MPs and activists will have watched in horror as several of the candidates flung buckets of manure over each other. Or tore into the record of the Government in which all of them have served. Or sought to distance themselves from policies which they have supported, or are committed to support.
Mordaunt has neglected some of her trade department work because of her campaigning, says her ministerial boss
Penny Mordaunt, the Tory leadership candidate, has been accused by her ministerial boss of neglecting some of her government duties while she has been focusing on her leadership campaign.
The accusation came from Anne-Marie Trevelyan, the international trade secretary. Mordaunt is the minister of state in the department – effectively Trevelyan's deputy.
Trevelyan, who is backing Tom Tugendhat for the Tory leadership, told LBC:
We all do our jobs in different ways. Understandably, perhaps, now it's clear, Penny has for the last few months spent some of her time focused on preparing her leadership campaign, for which I have utmost respect, that's how this system works …

There have been a number of times when she hasn't been available, which would have been useful, and other ministers have picked up the pieces.
Previously similar claims about Mordaunt neglecting her departmental duties have been made by unnamed government sources.
I have asked the Mordaunt campaign for a response and will post their reply when I get it.
In her interview, Trevelyan also hinted that she would not be surprised to see Tugendhat falling out of the contest tonight. Paying tribute to his skills, she said:
He has this extraordinary ability to bring people together to work with him who would not otherwise work together. I think it's a genuine gift and I wanted the rest of the world to see much more of it.

If this isn't his time, I hope that there will be a future time when he can lead the party.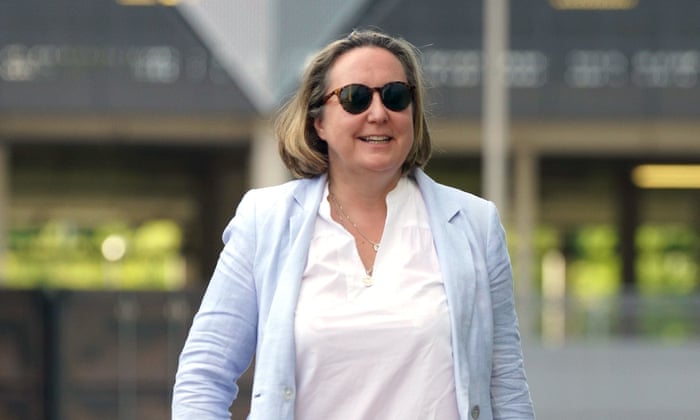 Pat McFadden, the shadow chief secretary to the Treasury, has written to Nadhim Zahawi, challenging him to provide more clarity about his tax and financial affairs, my colleague Heather Stewart reports.
IMF official tells Tory leadership candidates that using extra borrowing to fund tax cuts would be mistake
Rishi Sunak, the former chancellor, stands out in the Conservative party leadership contest because he is the only candidate firmly opposed to increasing borrowing to fund immediate tax cuts. As the voice of fiscal orthodoxy, it is perhaps not surprising that his stance is backed by the International Monetary Fund, whose UK head, Mark Flanagan, told the BBC: "I think debt-financed tax cuts at this point would be a mistake."
Flanagan said it would be better for the UK to invest in services that would promote long-term growth. He said:
The UK does have a below-average tax ratio relative to the rest of the Organisation for Economic Co-operation and Development. You can't have it both ways.

At some point you have to decide, do we want to invest in the climate transition? Do we want invest in digitalisation? Do we want to invest in skills for the public. Well, if you do you need the resources to do it. And the way to realise those resources is to lift the tax ratio a little bit.
Tory MPs to vote in third ballot, with Rishi Sunak buoyed by snap debate poll
Good morning. Tonight Conservative MPs will vote in the third ballot for the party leadership and the two TV debates over the weekend mean that Rishi Sunak, the former chancellor, starts the week looking even more certain than he was of taking one of the two slots on the final ballot for members. Who will take the other one is more uncertain, but after Friday's debate it did not seem entirely impossible that Kemi Badenoch (4th in the last round of voting) could overtake Liz Truss (3rd) and Penny Mordaunt (2nd), who were both surprisingly unimpressive. They both improved noticeably last night, Truss in particular, and now she must feel a bit more confident about overtaking Mordaunt and grabbing the second slot on the final ballot.
The Conservative party has been letting members choose leaders from a shortlist of two since 2001 (when Iain Duncan Smith won) and normally by the time the shortlist of two has been picked it is clear that one candidate is likely to win. This time round the outcome will be more uncertain. Pollsters, and the ConservativeHome website, have been polling party members on how they would vote in one-to-one contests. The ConHome figures from yesterday suggest Truss would beat Sunak. But the same figures suggest she would beat him by just seven points, despite having a 17-point lead over him the previous week, which means opinion is very fluid, and the campaign is shifting allegiances.
Opinium has now released the full results of its snap poll conducted after last night's debate. It suggests that Sunak was seen as doing best in the debate, and that Truss improved most since Friday.
Here is the agenda for the day.
10am: Angela Rayner, the deputy Labour leader, hosts an LBC phone in. She is standing in for James O'Brien, who is on holiday. Other MPs are appearing later this week.
11.30am: Downing Street holds a lobby briefing.
After 3.30pm: Boris Johnson is expected to open a debate on a motion of confidence in the government.
5pm: Voting opens in the third ballot for the Conservative party leadership contest. It closes at 7pm, and the result is announced at 8pm.
I try to monitor the comments below the line (BTL) but it is impossible to read them all. If you have a direct question, do include "Andrew" in it somewhere and I'm more likely to find it. I do try to answer questions, and if they are of general interest, I will post the question and reply above the line (ATL), although I can't promise to do this for everyone.
If you want to attract my attention quickly, it is probably better to use Twitter. I'm on @AndrewSparrow.
Alternatively, you can email me at andrew.sparrow@theguardian.com